How to Store Blankets and Comforters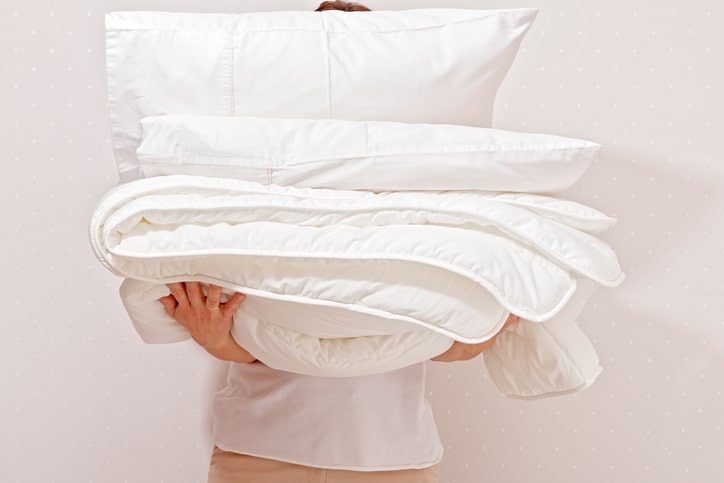 As the temperature rises, many households prepare to swap out thick bedspreads and blankets for lightweight bed coverings. Blanket and comforter storage may not seem to require preparation.
After all, these items can't be broken or easily damaged. But knowing how to store comforters and heavy blankets can help keep them in tip-top shape while they wait to be called back into service when temperatures drop.
Clean Your Comforter
Clean your blanket, comforter, or quilt before storing it. Placing even a mildly soiled blanket in storage can degrade the quality of the fabric. A dirty blanket will also only smell worse over time. Be sure to look at the label; some bed covers must be professionally cleaned. Unless it's heavily soiled, run your blanket through a gentle cycle with cold water.
Keep it Dry
Perhaps even more important than washing your items before placing them in quilt storage is ensuring that they're completely dry. Otherwise, you could end up with mildewy or even moldy bedding in the fall. Try these drying tips before placing your blankets in comforter storage:
Air dry them if possible
Check care instructions if applicable
Dry your comforter, blanket, or quilt by itself
Use dryer balls to prevent bunching and promote even drying
Remove your blanket from the machine immediately after drying to avoid wrinkling
Not only does immediate removal prevent unsightly wrinkles; a hot blanket is also easier to fold.
How to Fold a Comforter
According to Martha Stewart, lay thicker blankets flat and fold in thirds both vertically and horizontally until you have a tidy square. For thinner blankets, lay flat and fold corners toward the center; be sure to place the fold on the bias.
Next, fold into thirds until you form a square. Secure comforters or thick blankets with decorative comforter rope. Tie thinner ones with wide ribbon before placing your blanket or quilt in storage.
Choose Self Storage for Blankets and Comforters
Deciding how to store blankets starts with choosing a spot. Roomy closets with lots of airflow provide great storage for blankets and winter comforters. Dresser drawers are often too small for thicker blankets.
Garages, sheds, and attics are convenient but can host bugs and other pests. Storage units offer plenty of space for comforter storage and other household items. Wherever you choose to store your bedding, try these additional tips:
Place comforters and blankets in cotton comforter storage bags
Avoid placing blankets in plastic trash bags to prevent moisture retention
Vacuum-sealed bags provide dust and pest protection but don't allow for proper airflow
Don't smash down comforters or place anything on top of them to avoid feather damage; this can make it harder for your comforter to keep you warm
Rent Your Freedom Storage Unit Today
For long-term comforter storage, consider acid-free paper and boxes. Crumple tissue paper between layers to avoid flatness, permanent creasing, and dye transfer.
Freedom Storage Management offers secure, conveniently located storage for blankets and winter comforters in communities in the following states:
From quilt storage to a space for your boat or trailer, our well-managed facilities offer easy access while safeguarding your belongings. Reserve a space online today; our handy size guide will help you find the perfect unit for your needs. If you need further assistance, our friendly team will be glad to help. Find a Freedom Storage Management-owned storage facility near you today!
More From Freedom Storage Management