How Fall Commercial Self Storage Can Boost Your Business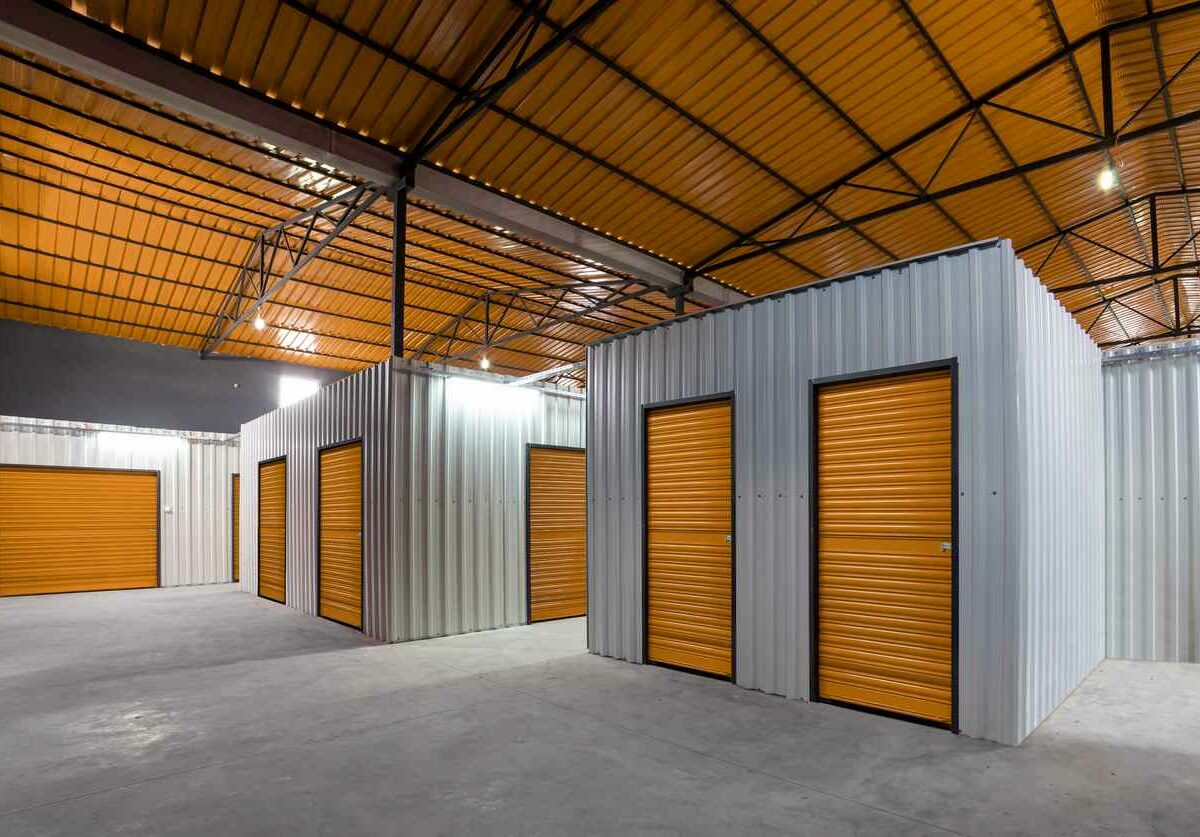 Commercial self storage can provide many benefits to boost your business, such as convenience, flexibility, and cost savings for businesses. A growing business can be a double-edged sword, one edge being the excitement of the success, the other side the stress of where to put everything. At Freedom Storage Management, we want to help your business grow and succeed for years to come by offering tips, tricks, and helpful advice for using commercial storage services.
What Is Commercial Self Storage?
Commercial self storage is storage catered specifically to your business needs. It allows you to optimize your workspace, manage inventory efficiently, and protect your assets, ultimately contributing to the overall growth and success of your business.
Steps for Making the Most of Your Commercial Storage Unit
The goal of commercial self storage is to maximize the organization and efficiency of your business. To make the most of your commercial storage unit, start by assessing your needs for the storage space, this will help you to choose the right unit for you. Before storing anything, label your items and create an inventory list, this will help you stay organized and maintain the efficiency of your storage unit.
While storing your items, consider accessibility by strategically placing items more frequently used. After storing your items, review and update your storage needs periodically.
Identify Your Storage Needs
Before you decide to rent a commercial self storage unit, start by thinking about your needs and what you will be storing in the unit. Specifying the reason you need a storage unit and for how long will help you identify the most suitable storage unit for you. Common reasons people rent a commercial self storage unit include:
Inventory management
Business expansion or relocation
Seasonal inventory
Archiving and document storage
Vehicle and equipment storage
Considering the duration of your storage needs is essential. Will it be a short-term arrangement lasting a few months? Or a long-term solution spanning the foreseeable future? Knowing this beforehand allows you to make an informed choice when selecting the ideal self storage unit.
Choose the Right Commercial Storage Unit Size for Your Business
Next, you'll want to determine what size storage unit you'll need. If you plan on storing large pieces of equipment, you'll want to consider a larger unit. However, if you plan on storing fewer or smaller items, consider a smaller unit.
Freedom Self Storage offers a wide range of commercial storage units in a variety of different sizes. Need help choosing which size storage unit you need? Check out our handy unit size guide to help you visualize exactly how much space you'll need.
How Can Commercial Self Storage Help Your Business?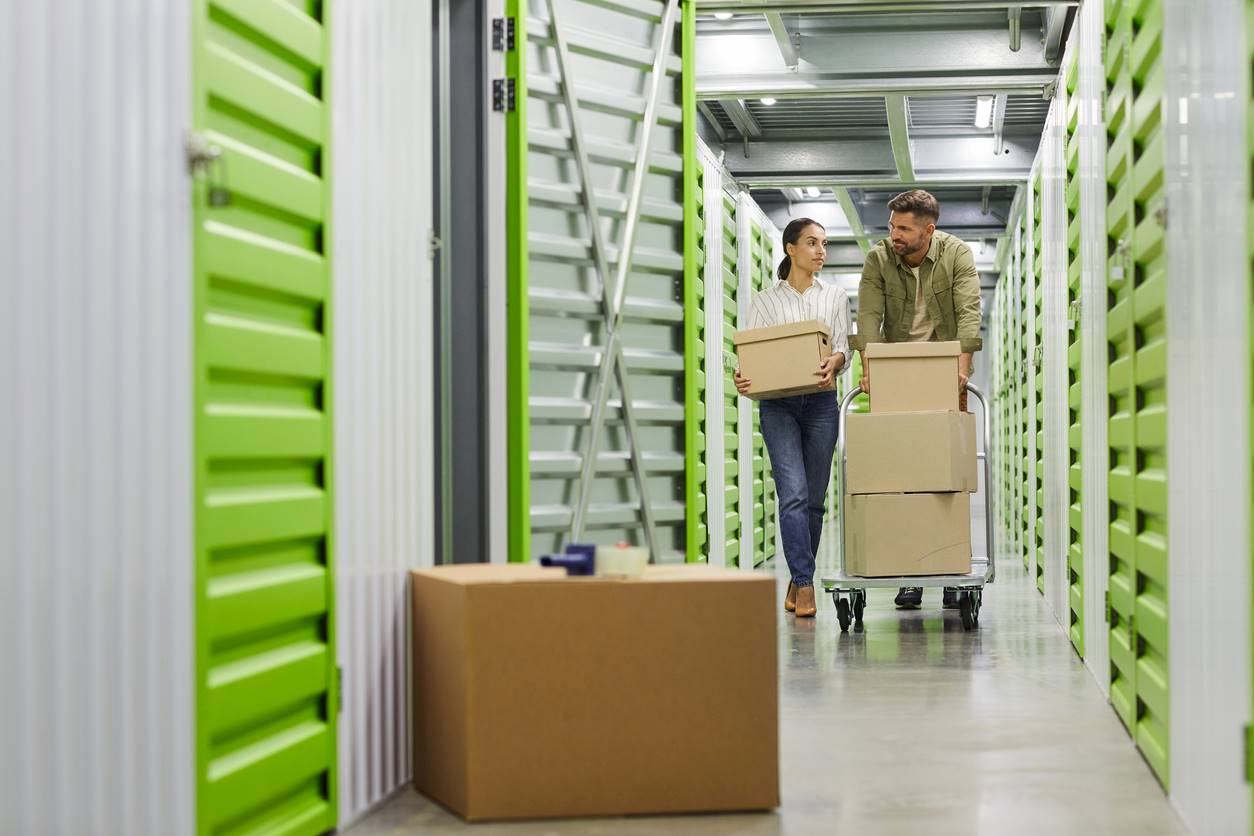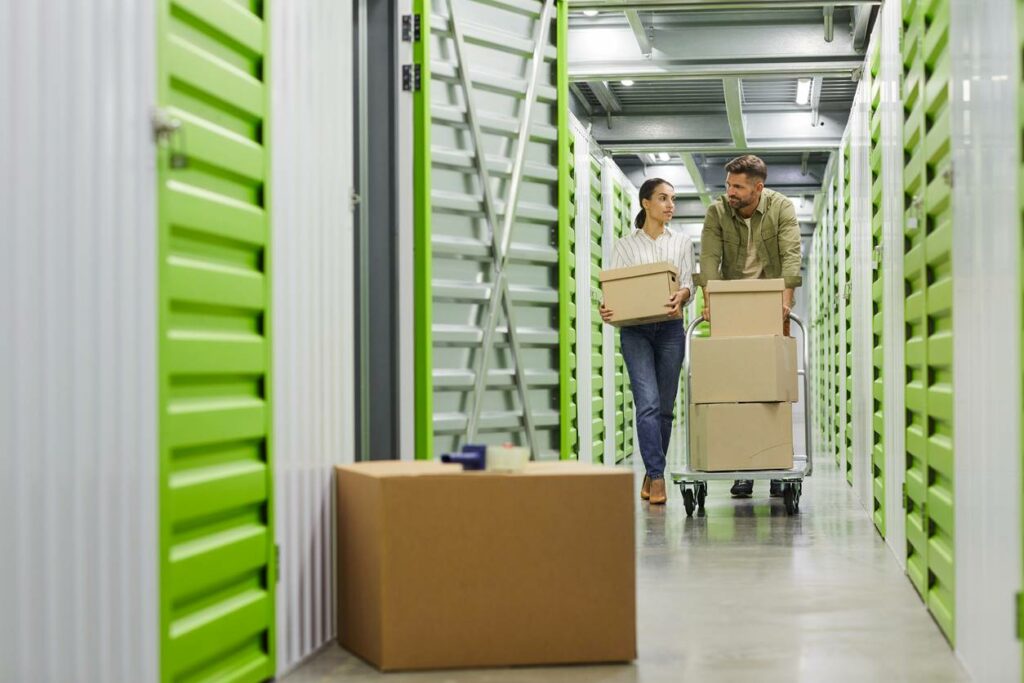 There are a variety of ways that commercial self storage can enhance your business and contribute to its overall growth and success. Commercial self storage can provide several benefits to boost your business such as convenience, flexibility, and cost savings for businesses.
Increased Office Space
By moving non-essential items to a self storage unit, you can free up valuable office space. This allows you to optimize your workspace, improve organization, and create a more efficient working environment for your business. A clutter-free office can enhance productivity and lead to long-term success.
Flexibility and Scalability
As your business grows, you may require additional storage space. Commercial self storage facilities offer various unit sizes, allowing you to adjust your storage needs per your business requirements.
Selling more inventory and need a place to store it until you find a bigger space? Use commercial self storage. Opening a new restaurant and need to store equipment or furniture until you're ready to open? Commercial self storage can help. Adding new employees to your team and needing a place to store items while renovating the office? You guessed it—commercial self storage is the answer.
Inventory Management
Efficient inventory management is crucial for any business. Commercial self storage can help you streamline inventory management by providing a dedicated space for storing goods. With easy access to your inventory, you can track stock levels, rotate products effectively, and improve order fulfillment processes.
Business Expansion and Relocation
When expanding your business or relocating to a new location, commercial self storage can serve as a transitional solution. You can store furniture, equipment, and other items during your transition, allowing for a smoother and more organized move.
Seasonal Inventory
If your business experiences seasonal fluctuations in demand, as many do, a commercial self storage unit can be extremely helpful. You can store seasonal merchandise, decorations, promotional materials, or equipment during the offseason. This helps you keep items secure, well maintained, and readily accessible when needed.
Archiving and Document Storage
It's very common for businesses to accumulate a significant amount of paperwork and documents over time. Commercial self storage units provide a more secure and organized space for archiving important documents, legal records, financial files, or client records. This frees up office space while ensuring easy access to necessary documents.
Vehicle and Equipment Storage
If your business involves specialized equipment, vehicles, or tools, commercial self storage is an ideal solution. Whether you're in construction and looking to store an extra excavator or in retail in need of a space for extra shopping carts, turn to commercial self storage. You can store vehicles, construction equipment, machinery, or any other items that are not regularly used. Storing items in one place can give you the peace of mind you need.
Commercial Storage Amenities To Consider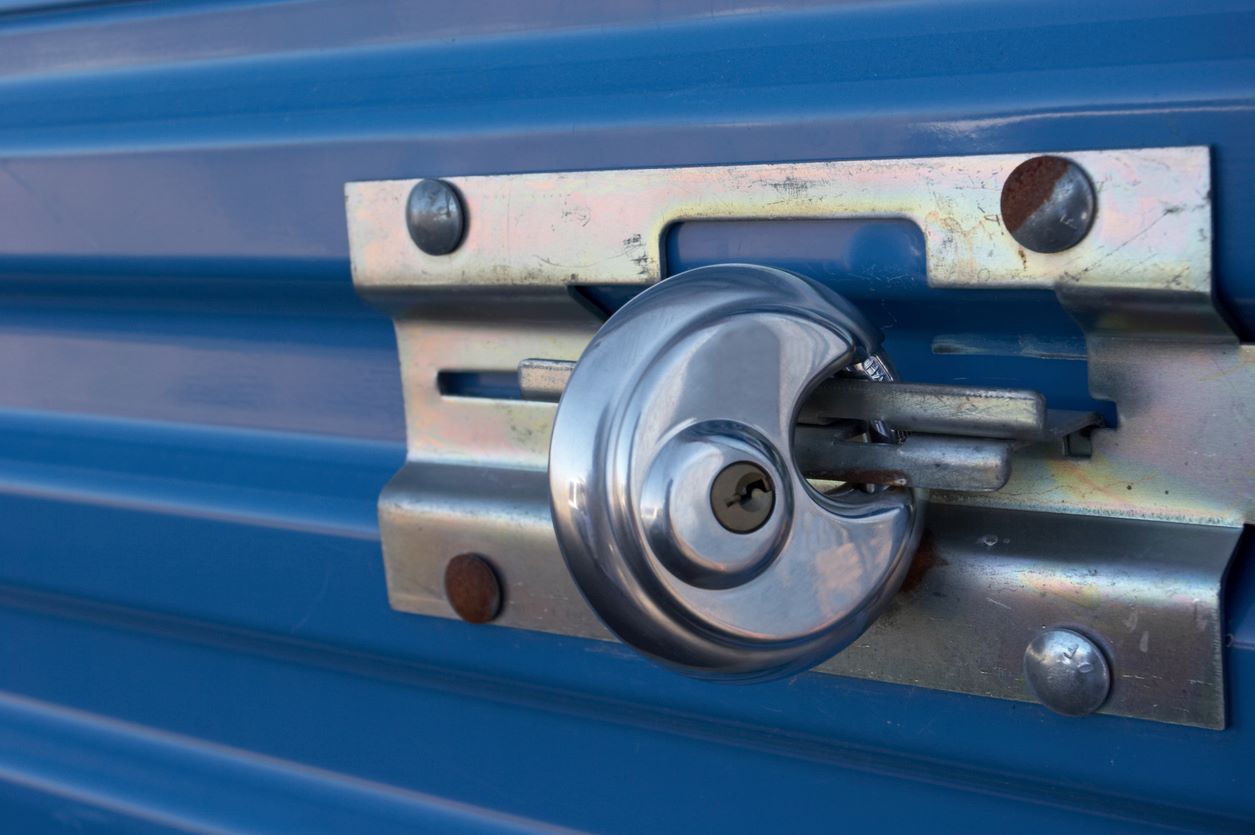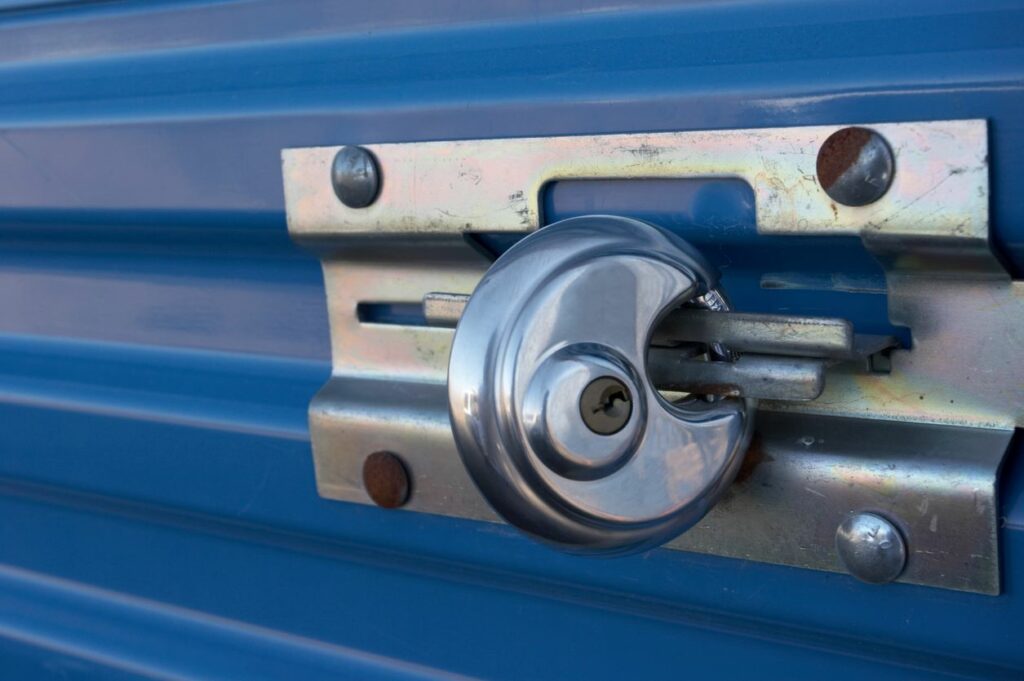 Distinguishing factors among commercial storage facilities lie in their amenities. When deciding on a storage unit, it is important to seek out amenities that enhance convenience and elevate your storage experience.
Easy Payment Methods
Straightforward payment methods make your commercial self storage experience more favorable. Find a storage facility that offers online payment and autopay options, eliminating concerns about missing a payment. A storage facility that offers month-to-month leases is helpful, as it grants you the flexibility to determine the duration of your unit rental, whether long term or short term.
Security and Protection
When storing your business items away from the office, a storage facility with high-quality security features is important to consider. The ideal storage facility should have recorded video surveillance, bright lights, and individual keypad access. Quality security features help provide you with peace of mind that your belongings are in good hands while you are away.
Access Hours
We understand how busy life can get. That's why it's important to find a storage facility with convenient access hours so you don't waste time visiting your self storage unit. Look for a storage facility with extended access hours or 24-hour access to save time and make your storage experience as enjoyable as possible.
Drive-Up Accessible Storage
No matter what you are storing, breaking a sweat by carrying heavy items or boxes back and forth is a thing of the past with drive-up access. Drive-up access allows you to park your moving truck or van right next to your unit making transporting your belongings to and from your storage unit an easier process. This feature is especially important if your business needs to store heavier or larger items, as transporting these items is more involved than others.
Rent a Storage Unit With Freedom Storage
When thinking about what to look for in a commercial storage unit, place Freedom Storage Management at the top of your list. Not only do we offer the features and amenities listed above, but we also provide exceptional customer service you won't find anywhere else.
With plenty of convenient self storage locations to choose from, you're guaranteed a stress-free storage experience when you choose Freedom Storage. Find a commercial storage facility near you and unlock the benefits of self storage today!
More From Freedom Storage Management