How to Create Room for Your Dog at Home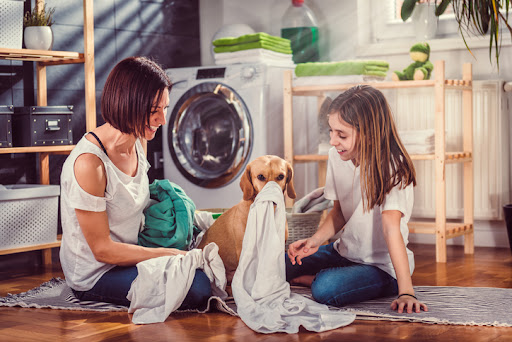 Any dog owner knows that your furry friend is more than a pet—they're a member of your family. And like any member of your family, your dog will need their own space in the house. The question is, however, where do you create that space? Food bowls, kennels, and toys can quickly take up room and get underfoot.
If you're wondering how to create a dog room or dog corner for your pet, Freedom Storage has you covered. Explore our dog room ideas for making Fido feel at home.
Our Favorite Dog Room Ideas
Making room for your dog at home looks different for everyone. If you have a smaller dog, you may just need to designate a corner as "theirs," and put their food and water, bed, and toys in that spot.
Bigger dog breeds, such as Great Danes and Golden Retrievers, however, will need more room to stretch their legs (literally). Things to consider when creating a dog room or corner include:
Your dog's breed—In addition to the size of your dog, their personality and energy level will help determine where to make their space. Nervous dogs may feel more comfortable in a low-traffic area, such as guest bedrooms, for example.
The size of your home—You'll need to get creative with your dog's space if you have a smaller home. Consider vertical storage or shelving for dog food, toys, etc.
Your budget—If creating a full-blown bedroom for your dog isn't in your budget or skill set, you may consider keeping your furry friend in the laundry room.
Give Your Laundry Room a Dog Corner
The laundry room is warm, secluded, and full of fresh-smelling clothes and towels—perfect for your dog! Consider keeping your dog's kennel, toys, etc. tucked under the laundry folding table, or store dog food and other supplies on shelves or in cabinets. Just remember not to wash your laundry too late in the evening, or you have a wide-awake pup on your hands.
Make Your Guest Bedroom Part-Dog Room
For larger dogs that may be prone to knocking over laundry hampers or chewing on folded laundry, your guest bedroom is a more ideal place for a dog room.
Worried about your dog getting mud or slobber on your comforter? Try thrifting for guest room bedding. After deep cleaning the thrifted comforter, you can make the bed knowing it's not the end of the world if Rex rests his muddy paws on it.
Build a Mini Dog Bedroom in Your Office
For senior dogs that prefer snoozing the day away over barking at squirrels outside the window, you can build a mini dog bedroom in your home office. Set up their favorite bed, fill their food and water bowls, and enjoy the quiet company of your furry friend while you work from home.
Depending on how old your senior pup is, you may also consider putting down a few pads or paper to prevent accidents on the carpet.
Make Room For Your Furry Friend with Self Storage
For small homeowners or one-bedroom apartment renters, creating a dog bedroom or dog corner may feel like a "ruff" task. Don't let limited storage space and small living space square footage stop you from making room for your dog—rent self storage! With a self storage unit, you can store extra furniture, holiday decorations, and other belongings to create a spot for Spot at home.
Rent or Reserve Your Storage Unit Today
Freedom Storage Management proudly serves the store needs of pet lovers through quality customer service and a wide selection of self storage unit sizes and features. Even if you have enough space for your furry friend, we can help you keep your living space clean and uncluttered with storage solutions ranging from 5' x 5' to 15' x 20'. 
Sniff out your storage solution with Freedom Storage Management—find a storage facility near you today!
More From Freedom Storage Management